Boats
NEWS
Nominated for the Best of Boats Award
3. Oktober 2016
Our Ovation 7.6 in nominated for an other international Award: the "Best of Boats Award". The Best of Boats Award is the new international boat recommendation for motorboats · with real life categories focused on the boaters' point of view · based on true tests by professional boat journalists from 15 different countries. The winner will be announced in November at the BOOT and FUN Berlin.
THE NEW GANZ EVOLUTION 7.7
LIVE WITH ALL YOUR SENSES



With our new Evolution 7.7 we just got the Ganz way: design follows function.
The acrylic glas hard top and the walkable mahogany sundeck cover are touch controlled. The brand typical flipping bathing platform is closed part of the boats stern.
OVATION 6.8 Sport-Line
Adrenalin water cooled
The Ovation 6.8 Sport- Line- Everything not improving performance is canceled.
Lightweight building, surface exhaust system and dynamic trim system is what you can expect in this V8 powered compromising nothing boating pleasure. Innovation at its purest.
Come on bord of the Ganz Boats Sharing Club
and enjoy the summer with an Ovation 6.8 on the lake
The dream of having a sports boat with a close Mooring has no longer to remain a mere dream. Ganz Sharing now offers a sharing model that promises unlimited fun with shared costs
At Ganz Sharing, you can purchase Time Credits and simply book your boat online. While you enjoy your freedom and relax on the water, Ganz Sharing handles the professional yacht Management.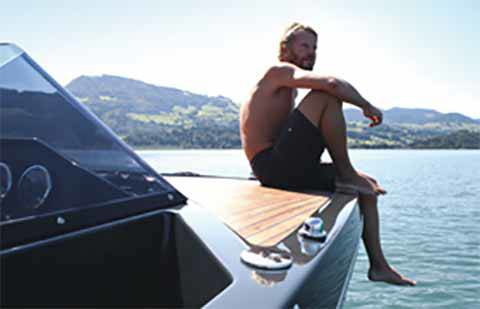 Be part of the Ganz-Community at get allways the latest news first.

Discover the latest Ganz movies.


Follow us on g+ und and get the latest Trends all around Ganz.